Buccaneer Bash
2023 Buccaneer Bash 
Saturday, October 7, 2023
Toepke Center on the campus of Dawson Community College
Starts at 5:30 p.m.
For More Information Contact Dennis Harp (406)941-2519  or email:  dharp@dawson.edu
Itinerary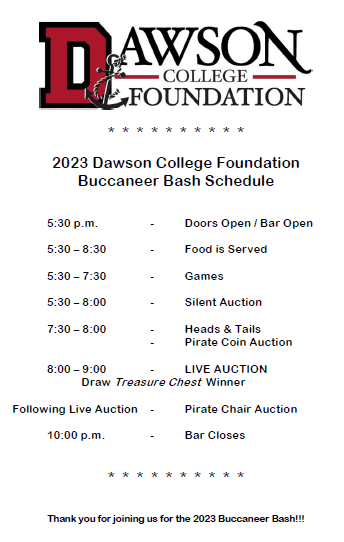 Live Auction Items
Bombay Gin #101

**Bombay Sapphire Gin** (Pin High)

Pit Boss Pellet Grill #102

18 "Pellet Smoker Grill. The Pit Boss Pellet Grill is a best-in-class-grilling experience designed to deliver unrivaled, restaurant-quality flavor to your home-cooked meals for the best value. Donated by Runnings.

Paintbrush Adventures #103

Paintbrush Adventures: Horseback Riding and River Rafting – Horseback riding and one night stay at a cabin for 8 people. These Scenic Trail Rides are booked by the hour or full day. Our full day includes lunch and an opportunity to fish, swim, or just relax and enjoy. You can combine an hour or two of riding and half a day of river rafting. We also do pack trips. Let the fun begin. We work with both Adventure Whitewater and Absaroka River Adventures. Donated by Wanda Wilcox, Paintbrush Adventures.

DCC Welding Class - Bench #104

Bench, five feet long by 30 inches wide made by the Dawson Community College Welding Class.

Crown Royal #105

**Crown Royal Peach** (Am. Legion)

"Morning Warm Up" by Artist Terry Redlin #106

Framed Picture and Painting by renowned artist Terry Redlin.

Fish Bowl - Gift Cards #107

Five $100 Gift Cards - Please Shop Local

DCC Cornhole Boards #108

Cornhole Board, Built with dedication and attention to detail. Dawson Community College Colors and Logo. Donated by Don Higbee, BigHig Enterprises

Grey Goose Vodka #109

**Grey Goose Vodka** (Wagon Wheel)

Anaconda Getaway #110

Anaconda Chamber of Commerce: Reserve your one-night stay at the Fairmont Hot Springs Resort with your gift certificate towards the family fun package. This package includes Golf at Old Works, a Jack Nicklaus-designed golf course. Enjoy a historic bus tour through Anaconda. Dates available are May 16th, 2023 until September 17th, 2023. Tours leave the Chamber Visitor Center at 10 a.m. Monday through Friday.

Buccaneer Sculpture #111

This Bronze Buccaneer Sculpture is the very first casting of the 200 limited editions of these sculptures. This model is the replica of the 8-foot-tall sculpture Buccaneer to be placed on the Dawson Community College. Artist: Pam Harr.

Fishers Sand and Gravel Co. #112

- 15 tons of ¾ crushed top surface road gravel including free delivery within a 25-mile radius.

Patron Tequila #113

**Patron Tequila** (V.F.W.)

Shaquille O'Neal Autographed Basketball #115

Donated by Cynthia Atteburg

Blackstone Grill #116

36" Blackstone, 4 Burner Griddle, Hardtop, Propane Bottle provided by Bob and Kristie Stanhope

Pendleton Whiskey #117

**Pendleton Whiskey** (Am. Legion)

Horned Hereford Bull Skull #118

Horned Hereford Bull Skull, hand painted, red, DCC Logo. Donated by Rhonda Anderson and Kent Granmoe.

Autograph Men's Basketball & Poster #119

Autograph basketball signed by the 2023-2024 Dawson Community College men's basketball team. Poster of 2023-2024 men's basketball team: Two Buccaneer Club Season Passes

John Deere Liberty Safe Plus **MYSTERY GUN** #120

75 Minute Fire Package, With Heat Expanding Palusol V-Seal Lifetime Warranty. Interior Lights, Bright Auto On/Off Led Wand Lights, 48 Gun Capacity with 3-In-1 Flex Interior. 792 LBS, 2i Piece Body, 20% Stronger Security. UL Listed Security with Lifetime Warranty and In-Home Service. 4" Locking Bars with Drill Protection, HardPlates, and ReLocker. Deluxe Door Panel with Cool Pockets. Deluxe Outlet Kit with USB and Cats Connections. 12" Dehumidifier to Keep Valuables Dry.

Griz Tickets (Nov. 4th) #121

Two club seats and two pregame field passes for the Sacramento State University and University of Montana Football Game.
Silent Auction Items
"Bull Elk" Framed Picture #1

Framed Picture (Donated by Bill Colter)

BOSS Basket #2

Miscellaneous items. Donated by Jay Miller, BOSS

Cellular Plus Package #3

Pop Socket, Naztech X Pods, PRO, Motorola Tote Bag, Mophie Powerstation Portable Battery (6,000 AH) Cell Phone Big Screen 12 Inch view Screen; donated by Cellular Plus.

Exotic Hard Wood Cutting Board #4

Cutting Board, Exotic Hardwood Cutting Board, donated by Jay Morasko, State Farm Insurance.

DCC Women's Autograph Basketball & 5 Skill Development workouts for 1 player #5

Women's Basketball Package, signed basketball by all players and coaching staff, 2023-2024 team photo, and 5 individual skill development workouts for one player with Coach Mark Weber.

Billings Getaway #6

Billings Package: One night stay at the Dude Ranchers Lodge. The Burger Dive $100 Gift Card

Fish Bowl #7

Five $100 Gift Cards - Please shop locally.

Fishers Sand and Gravel #8

- 15 tons of ¾ crushed top surface road gravel including free delivery within a 25-mile radius.

Stadium Replica #9

Green Bay Packers, Solid 3D Layered Construction, 1/8 inch thick, stacked 5 rows deep, official team logo and colors. Custom-made artwork, designed to match your team's stadium. Ready to Hang.
All donated by Dave Bazzoni, You The Fan

Handmade Woven Basket #10

Stadium Replica #11

Minnesota Vikings, Solid 3D Layered Construction, 1/8 inch thick, stacked 5 rows deep, official team logo and colors. Custom made art work, designed to match your team's stadium. Ready to Hang.
All donated by Dave Bazzoni, You The Fan

Outdoor Fire Pit #12

Fire Pit, Outdoor Fire Pit, 28" Fire Coder Bottom made by the Dawson Community College Welding Class

Stadium Replica #13

Notre Dame Fighting Irish, Solid 3D Layered Construction, 1/8 inch thick, stacked 5 rows deep, official team logo and colors. Custom-made artwork, designed to match your team's stadium. Ready to Hang.
All donated by Dave Bazzoni, You The Fan

Pine Needle Woven Basket #14

"Ringneck Royalty" Framed Picture #14

Framed picture by anonymous donor

"Winter Scenery" Framed Picture #16

Framed Picture donated by Pamela Trueblood.

Original Artwork # 17

Original artwork on tile. "John Wayne." Artist: Charity Schreibeisc Minimum bid: $350
Thank you to our 2023 Sponsors
Thank you to our 2023 Sponsors